Moot Court is a simulation of an appellate court proceeding (also known as mock Supreme Court and Supreme Court Simulation). Moot Court involves teams of student-contestants, clients burdened by a legal problem, briefs and oratory detailing the dimensions of the legal problem before an appellate court. Students argue a hypothetical legal case known as "the competition case." To do so, students must research the cases and laws cited in "the competition case." Moot court judges ask students questions and grade the students on the basis of their knowledge of the case, their response to questioning, their forensic skills, and their demeanor. Oral argument lasts 40 minutes (each side gets 20 minutes) and each student is expected to speak for a minimum of 7 minutes. Judges usually consist of attorneys, law faculty, or, on occasion, members of the judicial branch of government.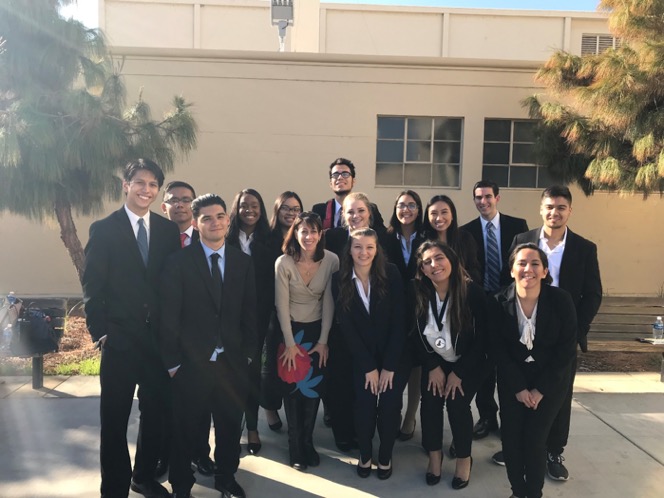 Moot Court Team 2017
---
 Front: Marc Anthony Basurto-Avila; Pam Fiber-Ostrow (coach); Meagan Koontz; Andrea Poma; Sara Salinas
Back (From L-R): Nathan Guerrero; Ben Carrera; Charron Varona; Vivian Tran; Connor Medina; Claire Jenkins; Rana Salem; Alyssa Rogan; Luke Rodriguez; Julian Pina.
Why Take Moot Court?
---
It may be the most fun and rewarding class you will take as an undergraduate, while also the most demanding and challenging (See student testimonials). Some of the benefits of participation include improved communication skills, enhanced critical thinking abilities under duress, improved legal research and writing skills, enhanced self-confidence and poise, improved relations with alumni, and likely, enhanced acceptance rates into law school. Students considering law school have benefitted from this class in a variety of ways as it exposes them to constitutional, case and statutory law. Additionally, as the testimonials indicate, students form relationships with other students they may not have if they hadn't enrolled in the course; these bonds have extended far beyond the semester of the class. The class is challenging, and it is good experience for law school and a legal career. However, it is also an amazing experience for students not intending to follow with law school, pursuing a variety of academic and career options, as it improves students' critical thinking, public speaking and logic. Finally, students will have access to network with a variety of important people in the legal, academic, and political community. For more information on the American Collegiate Moot Court Association and tournaments please see ACM Moot Court.